– Eric Metaxas, host of the Eric Metaxas Show and NY Times Bestselling author of Bonhoeffer: Pastor, Martyr, Prophet, Spy
Supporting Israel and the Jewish People is very important to me — and not only because Jesus was a Jew! If you want to bless the Jewish people, Jewish Voice Ministries International is a great way to do so. Their mission is bring the Gospel to the Jewish people, and to see all Israel saved. CEO Rabbi Jonathan Bernis is a hero, and I encourage you to support the work that he and Jewish Voice are doing.
Welcome to friends of The Eric Metaxas Show! We're so glad you stopped by.
As a follower of Eric's TV program, you know that supporting Israel and the Jewish people is important to him. It's important to us too here at Jewish Voice Ministries International (JVMI). In fact, it's what we've been doing for over 50 years.
Jewish Voice exists to transform lives and see all Israel saved.
Our mission is to:
· Proclaim the Gospel to the Jew first
· Grow the Messianic Jewish community
· Engage the Church concerning Israel and the Jewish people
An Exclusive Offer Just for You!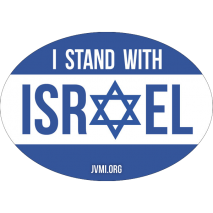 *When you click the button, you will receive regular emails that share how you can partner with us to transform lives. If you previously unsubscribed, you will remain unsubscribed.
Declare your support for the mission of Jewish Voice - to see all Israel saved - and receive a FREE ''I stand with Israel'' car magnet. Join us in advocating for Israel and praying for God's protection over her.
Some of the ways we support Israel and the Jewish people are:
Providing no-cost medical, dental and eye care to some of the most impoverished Jewish communities on Earth and sharing the Gospel
Humanitarian Medical Outreaches
Suppling vision and dental care otherwise unaffordable to many impoverished Holocaust survivors; ministering to their loneliness through social functions and building relationships and opportunities to share the Good News of Jesus the Messiah
Serving elderly Holocaust survivors in Israel
Weekly syndicated TV program
Jewish Voice with Jonathan Bernis is broadcast on Christian networks worldwide teaching the Jewish roots of our New Testament faith and inspiring support for Israel and the Jewish people
Join with Jewish Voice in our mission to see all Israel saved!
All Rights Reserved © 2020 Jewish Voice Ministries International